Agile Methods

High-performance, flexible and resilient teams put the customer in focus.
Agile methods and principles increase flexibility, enhance resilience and improve performance, especially in tasks where there is a high degree of uncertainty regarding requirements and procedures.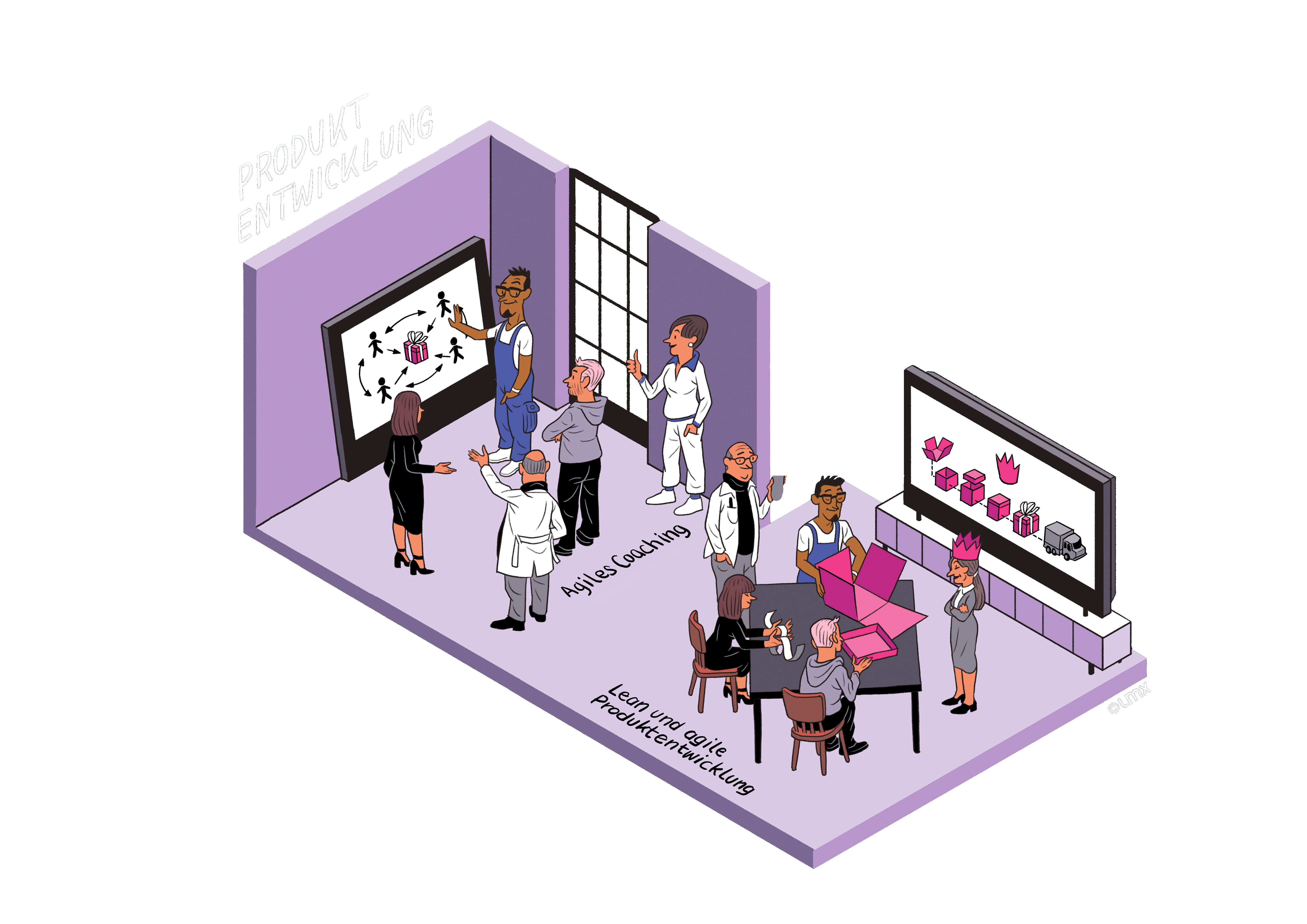 Agile Methods
For us, the application of agility and lean management is not a contradiction, but a meaningful complement. Both ways of thinking put the customer in the center and include valuable tools to increase the added value and the experience for the customer. It is a question of the task and starting situation whether agile or lean methods lead to the better result.
Where does agile make sense?
In complex tasks, we use agile methods to get quick and regular feedback from the customer to ensure we are on the right track. Complex means that both the requirements are not fully available at the beginning and may change, and the method, technology or process that leads to the fulfillment of the requirements is not fully known. An agile approach in iterative steps (sprint) with creation of an increment, which is presented to the customer, is target-oriented.
Such an initial situation is often found in IT areas as well as research and development areas.
Benefits of agility
Increase in customer satisfaction
Increased performance in teams -
Increased employee satisfaction
Increased flexibility
Improved resilience
Phone: +49 211 63 55 89 60
E-Mail: info@lmx.eu

---
Lean Management & Digitization 2023 at Ruhr-University Bochum
Lean & agile product development
We analyze and optimize processes, structures and collaboration around product development.
Target: Reduction of "time to market", increase of product maturity at start of production and better collaboration
Scrum Simulation
Experience how Scrum works by means of a simulation. Decide if the approach is suitable for you.
Target: Experience Scrum
Project and product portfolio planning with Kanban
We help to implement the principle "Stop Starting - start Finishing" with Kanban and thus to avoid negative multitasking.
Target: Start and finish the right projects/tasks with high resource efficiency
Agile project management
We analyze your task and project portfolio to choose the right project management approach.
Target: Complete projects "on time" and with high customer satisfaction.
Agile Trainings
We offer customized and open trainings on the topic of agility.
Target: Get to know the mindset, principles and tools of agility